First Internet Bank posted 51 cents for the Q just ended. They beat the analyst's view by 5 cents and crushed last year. But they only increased the prior Q by one cent, and therefore the stock will most likely just get a lukewarm response. I have not dug into the numbers yet so I don't have much to comment on. They did raise some $10 Million through a debt placement so this should allow them to grow the book of loans (and accounts) which could help #'s going forward. In the meantime there is a bit of a scandal going on over at our original stock pick in this space - BOFI. Apparently, one of the former employees (that happened to be an inside auditor) was fired. He subsequently filed a lawsuit that basically said he was terminated because the company wanted to silence his concerns and that BOFI was not forthcoming with its regulators. So as a result the parade of class action attorneys have been piling on and the stock has taken a beating. The company denies all this and the regulators seem to agree so far - or at least are quiet about it. I currently have no position in either stock mentioned (but may purchase shares at any time).


On another note, this past week has been my worst in years; my market shorts are getting crushed as the Central Bankers (Planners) over at the EU have been letting everyone know that they will keep printing until all currency is worthless. China does not want to be left out of the party either so they announced another rate cut overnight. The currency wars (or a race to the bottom) are ongoing.

At this point the market is very near recovering the old highs. Most of the big boys like MCD - MSFT - GOOGL - AMZN are all exploding to new all time highs. It almost seems as if they have to make up for the 30% of the remaining stocks which are stuck in bear market territory (it is tough work but someone has to do it...)

During the pullback in 2011, the market action was somewhat the same: A massive rally off the bottom to a high around October 26 - then fading quite a bit until about the third week in November, then the obligatory Santa Rally that took it to new highs. I am looking for the same type of action now. I should add that I am less confident in this view than I was a day or so ago, but for the time being, I am sticking with it.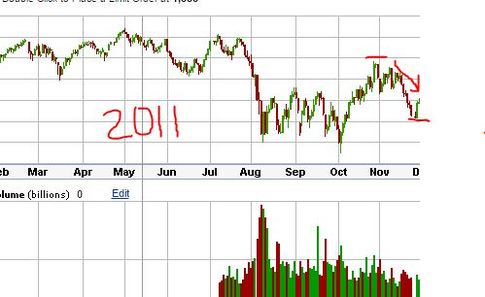 2011 Market Correction. Massive rally into the end of October (like the current rally) and then a downtrend through November 25.